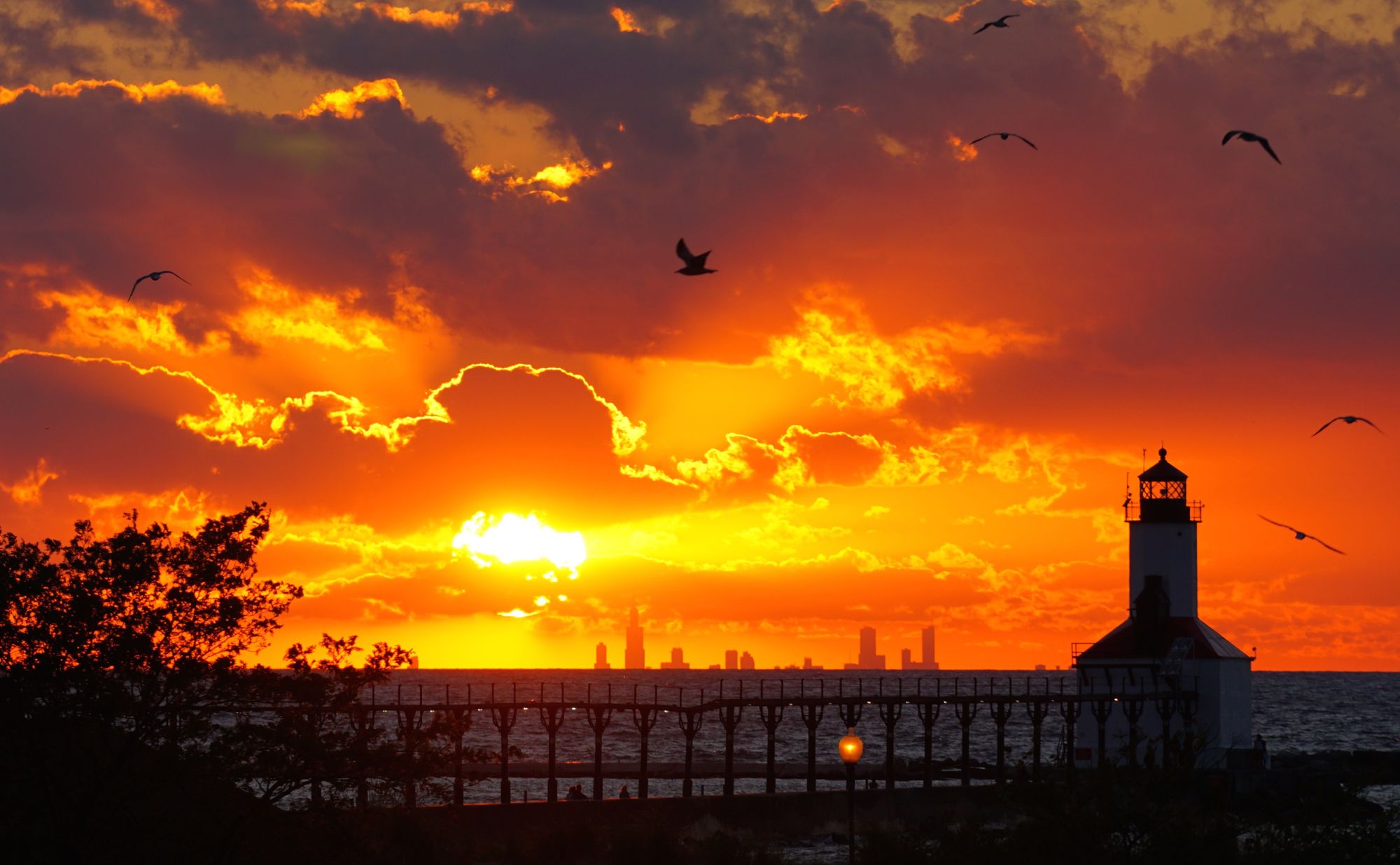 Good morning.
It's a beautiful day, ain't it? The sun is shining. The birds are singing. A flawless breeze is dancing through my hair.
Even if none of those things are actually happening the morning this is published, it'll be happening in my mind and I hope it will in yours.
Because it is a beautiful day. They all are, when you think about it.
Gather 'round. Come close. Take a knee.
Listen, I know I can be surly and snarky. Brash and blunt. Acerbic and arrogant. Aw hell, I know I can be an asshole.
But not today. Not today.
Do me a favor, will ya?
If only for today, forget the disagreements over politics. Forget the petty arguments. The jilts and the lies. The silent treatments. Forget the unanswered text messages.
God knows, all of that will be there tomorrow.
Let it go. Forget your cares a while. Let the burden lift. If only for today.
This last year, I experienced both the best and the worst day of this strange dream that's called my life, and I know many of you out there rode a similar rollercoaster of emotions. It hasn't been easy on anyone.
It's been a long year…
I need you to do something for me and it's very important, so I need you to listen and I need you to listen good.
I need you to go out there and have fun. You need it. I need it. We need it.
Now is not the time to rest. It's not the time to sit on laurels. Now is the time for action. For movement. To dust off and get back up and out.
Now is the time to remind ourselves what life is because this last year was not it and I refuse to let this last year be it.
It's time to go. Enjoy yourself.
Every street festival you come across, go. Want to see a play? Go see it. A comedy show? Sit in the front row and get made fun of by the comedian. They're just teasing. Take the architecture tour again. Crawl to all the breweries if you have to. Hell, if antiquing is your thing, go antiquing and go to every garage sale you can find.
Take the kids to the movies and, the next day, pile them in the car and go explore Starved Rock State Park. Take them to the Dells and to the waterparks. Visit the Capitol or go to Galena. Take them to Six Flags and let them ride all the rides they want until they fall asleep. I need to see lines of baseball and soccer teams out the door at ice cream shops. Throw birthday parties and sleepovers. Go to Navy Pier and the beaches and the playgrounds and let 'em play.
To those of you with boats on Lake Michigan and up in the northwest suburbs around Fox Lake, I know gas is already high and climbing, but you get out there on the water every weekend if you can. Sailboats raise the sails and let the flags fly as you cruise the cliffs of concrete and steel and glass along the shore. Go, fish. Rent kayaks and canoes on the rivers. Toss a case of beer into a floating cooler and flop into a tube and float.
Damn it, I need you to make every game in your softball beer league in Lincoln Park. I need to see every sand volleyball court full. I need every basketball court playing 5-on-5 and sidelines stacked with who got next. I need to see the trails flowing with rivers of runners and bikers and people much healthier than I am. There should never be a skate park without someone on the half pipe. There should never not be a kite being flown. You get out there and you throw that ball for your dog until your dog tells you when to stop.
I need to see every bar and restaurant along the new Chicago riverwalk packed and teeming with life and laughter. I need to see every rooftop on every high rise that has one full of people posing for photos with their cocktails. I need every sidewalk patio table taken at lunch time. I need to see all of your cliche and touristy Instagram pictures and I hope you get all the damn likes your little heart desires. Brunch? Call your friends because it's on you and they'll get it next time, just get them up and out for bottomless Mimosas and order another Bloody Mary. Spend the afternoon out at your building's pool or your neighbor's pool. I need the stores to be empty of Chicago style hot dog ingredients and I need you to grill for your neighbors and toss them a beer. You go eat all the deep dish and tavern style pizza you can fit in your stomach. You dip that Italian beef and you dip it good. I need you to go to Manny's and the Billy Goat. I need you to buy as many people you can the Chicago Handshake of a shot of Jeppson's Malört and an Old Style. Even if you don't know them, go on, make a friend. Is there a live band nearby? Pop in and have a drink or a cuppa two tree. Pick up that phone and call that old friend you haven't seen in a while and meet at a restaurant to catch up. Hire a babysitter and splurge on a night out with your spouse. Go crazy with it, take the kids to Grandma and Grandpa's if you have to, and book a luxury hotel room for a romantic weekend. Thank them by taking the family out and tell your friends to bring theirs. Make every local restaurant look like a big, fat, Greek wedding. And you tip your bartenders and servers, damn it, and you tip them well. Real well. I need you to tip them so well they remember your name every time you come back and you'll know because you visit again and visit often and tip them well every time.
I need so many people out on the Hyde Park Midway it looks like the World's Fair. Bronzeville better get out there and party like it's the 1920s and Jazz is taking off and the nightclubs are packed because King Oliver and Louis Armstrong have just arrived in town and I need you to behave like you have seven straight nights ahead of you at the Savoy Ballroom. I need modern Maxwell Street to make 1950s Maxwell Street look like a poorly attended school board meeting. The whole South Side should sound like Buddy Miles and Howlin' Wolf and Jackie Wilson and the Funk Brother's are back in town and Paul Butterfield is on the harp. I need Old Town to be Frank Sinatra's kind of Old Town. The Gold Coast should have the spirit of 1340 N. State Parkway and there should be so many divorcée's strutting their stuff up and down Rush and Division no little blue pills are necessary and I need to see all the Trixie's angry at their boyfriend Chad outside the River North clubs every night because Chad checked out another girl. Comiskey Park should feel like Disco Demolition Night, every night. And if you young people in Wrigleyville don't turn that neighborhood into the drunken cesspool (and I say that with love) we all know it can be and if you don't make the all-day drinking mistakes we all did when we were young, I swear to all that is Holy that me and all your Chicago ancestors that came before you will never let you live it down.
I need you in the suburbs who were kids in the early 1960s to act like The Buckinghams, The Cryan' Shames, New Colony Six, and The Shadows of Knight are headlining The Cellar in Arlington Heights again, and I want you to pretend it's that way every night. This better be the wildest Ravinia Festival of all time and the trash cans should be overflowing with wine coolers. I need every night in this city to feel like Chaka Khan and Rufus and Sly and the Family Stone are playing on one side of town and the Ides of March are opening with "Vehicle" and Chicago (the band) is closing with "Lake Shore Drive" on the other side of town. I need this city to feel like it's the late 1970s/early 1980s and you're back at 206 South Jefferson Street and DJ Frankie Nicholls, Jr. is just starting to remix it all together or it's 1982 and Joe Shanahan just moved his club into the basement of the Metro. I need you to remember how excited you were to go see Cheap Trick or Styx or Survivor when you were a kid and tailgating in the parking lot with your friends and I need you to go out and pretend you're that kid again. I need you to remember seeing the Smashing Pumpkins and Wilco and Liz Phair and Eddie Vedder back in town with Pearl Jam. I need you to imagine if 88 Fingers Louie was reuniting as Alkaline Trio and Rise Against or a night with OK Go and Fall Out Boy, all packed tight into one big ball of energy. Live as if Da Brat and Jennifer Hudson and Lupe Fiasco and Chance the Rapper and Kanye West were all back home and here to entertain you and your friends for one night. I need you to pack Buddy Guy's to Kingston Mines and I need you hipsters to be the most hipster hipsters that ever hipstered and I need you to go see all the best damn bands I've never heard of and you totally discovered first.
I need it to feel like it's 1986 and the Bears just won and "Super Bowl Shuffle" is on repeat everywhere and I need it to feel like "Chelsea Dagger" is blaring again from everywhere during any of the three years the Blackhawks won their most recent titles. I need it to feel like it's 2005 and 2016 and Chicago baseball has been crowned king once more and I need every day to feel like it's a 90s Chicago Bulls playoff day.
I need it to feel like a Palmer House or a Drake Hotel New Years Eve and you're Mark Giancreco and Janet Davies. I need it to feel like the Bud Billiken parade and the South Side Irish parade, the old one, all the time. I need every street to look like Ferris Beuller is leading the parade. I need everyone I see when I walk out the door to shake their tail feather like they're outside Ray's Music Exchange and every night as if I'm live at the Palace Hotel Ballroom.
Do you understand what I'm trying to say, Chicago?
This summer, we're all on a mission from God.
Everybody needs somebody and I need you.
Live.
Live.
Live.
Enjoying these posts? Subscribe for more!
Subscribe Now