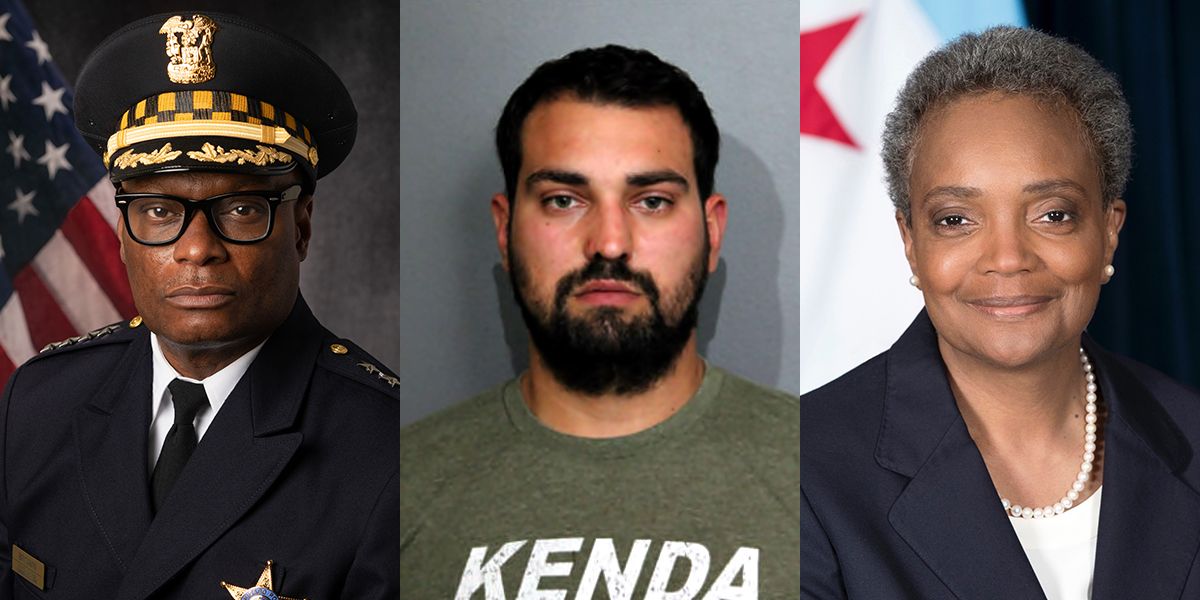 Listen, I get it. Really, I do.
After a seemingly endless run of bad press due to their seemingly endless inability to get control of the seemingly endless violence that is a plague and the primary stain on the city they are tasked with leading, Chicago Police Superintendent David Brown and Mayor Lori Lightfoot desperately needed a public safety win.
And then…well I'll be darned and what do you know(?)…mere days after Superintendent Brown had been called to testify in front of the Chicago City Council and answer for that aforementioned violence, all of which appeared to be little more than a low-budget theater production or dinner-party game of charades for the City Council to appear as if they're doing anything worth anything for this city, and with President Joe Biden's visit to the Chicago suburbs approaching, and smack dab in the middle of an Independence Day weekend in which greater than 90 people were actually being shot and 22 of those people shot were actually being killed elsewhere across the city, a humble hotel housekeeper entered a room with a view at the W Hotel Lakeshore in the 600 Block of North Lake Shore Drive and discovered an arsenal(!) of weapons "in a very suspicious position" and they had it! The public safety political press win they'd been hoping for!
But, in their eagerness to play politics, did Mayor Lightfoot and Superintendent Brown put the taxpayers of Chicago on the hook for a lawsuit?
Before you accuse me of being too quick to defend Keegan Casteel, the 32-year-old Iowa man who is now facing two felony charges of aggravated unlawful use of a weapon, I want to make certain a few things are clear.
First, I am glad the W Hotel employee said something to someone and I'm glad either they themselves or W Hotel management reported what they saw to police. God forbid, if there had been truly despicable intentions by someone in that hotel room or any of the other hotel rooms, the answer is always far better for that employee to have spoken up rather than the alternative. That W Hotel employee did the right thing and, whoever they are, they should hold their head high that they were correct in their decision.
Second, not only am I glad that the hotel employee said something, I'm glad that the Chicago Police Department took the information seriously and investigated the situation. For the same reasons as above, the Chicago Police Department was correct to investigate.
Third, if Keegan Casteel left one or both of his firearms and their accessories strewn about his hotel room while he was gone, particularly with one in the chamber as has been reported, it was a boneheaded move and a mistake that a responsible gun owner can not make, particularly in a place they are unfamiliar with. Further, even if he was just another tourist in town with his girlfriend and didn't want to leave his firearms in his vehicle due to concerns about auto theft in Chicago, ignorance of Illinois law is no excuse. As I constantly remind those I talk to about firearms, owning a firearm is a serious responsibility and I always encourage all firearm owners, both the new and the experienced, to continually seek training, continually review best practices, and be up-to-date on all responsibilities regarding firearm ownership.
That said, let's get into what happened afterward.
As mentioned above, while all too desperate for a political win, Chicago Police Superintendent David Brown and Mayor Lori Lightfoot were quick to rush to the media lectern and paint Keegan Casteel as a mass shooter that probably/totally would have been a mass shooter had it not been for their quick work and their no nonsense attitude toward crime. Shut up and book 'em, Danno!
They were all too quick to cast Keegan Casteel of Ankeny, Iowa as a suspect for a heinous crime he did not commit and, based on all of the evidence heretofore presented and investigated by the Chicago Joint Terrorism Task Force, a crime he did not intend to commit. And an overzealous media was all too quick to publish their comments on this totally-major-super-duper-important news event that makes for great narrative and clicks on social media.
Rather than let the investigation and the charges further play out in the court of law and let Keegan Casteel, a person who has "no previous history nor any issues in federal databases," have his day in court under the presumption of innocence, Superintendent David Brown chose to portray Keegan Casteel and this situation as a tragedy that was "likely" prevented."
Mayor Lightfoot similarly went so far as to say that the hotel employee's actions, "I believe averted disaster." Further, Mayor Lightfoot stated she believes it's clear there was "something more nefarious" behind Casteel's decision to bring a rifle with a high-powered scope to Chicago, rather than simply for personal protection. And Mayor Lightfoot, never one to shy away from the cameras, was not done and continued by saying, "Five loaded magazines? That's not, 'I'm going to the big city, and I want to take my weapon.' That's something more nefarious, and luckily because of the really quick work of the hotel worker, a tragedy was averted."
Regardless of whether or not I believe this particular law he was charged with to be unconstitutional, by having a loaded firearm uncased and accessible in a facility without that facility's permission, Keegan Casteel did break an Illinois State Law. A crime for which he was charged.
Fortunately for Keegan Casteel and for all of us, even if there was one in the chamber we know that guns don't kill people. People kill people. And Keegan Casteel did not kill anyone. He did not commit mass murder and reign hellfire upon Oak Street Beach or Navy Pier, the targets implied by the hotel room's location.
There has been zero evidence presented that he intended to commit such a heinous act. For the Chicago Police Superintendent to call it "likely" and for the Mayor to imply "something more nefarious" and state that "luckily…a tragedy was averted" is not only entirely unnecessary and unhelpful before the man has even received his first court date but it is insanely inappropriate. I can not emphasize to you enough how wildly irresponsible and, quite frankly, incompetent Superintendent Brown's and Mayor Lori Lightfoot's comments were and their behavior should alarm every citizen of all colors and neighborhoods.
These people are not giving "man on the street" reaction interviews for 'B' roll to the local 10pm mobile news team. These are your elected officials. And, whether they're aware of it or give a damn about it, in this country, every person has a legal right to the presumption of innocence. Especially for crimes they did not commit. But now, thanks to Mayor Lori Lightfoot and Superintendent David Brown, every time someone searches Keegan Casteel he's a "likely" mass shooter who was prevented from committing a nefarious act.
I guess it could be said that it was an ironic and absurd twist that the very next morning, the day after charges were brought against Mr. Casteel and such irresponsible statements were made to the press, their police department found themselves in a manhunt searching for a suspect who actually did shoot 3 undercover officers, a Chicago police officer and two ATF agents, while they were merging onto an expressway. Again, that person actually shot 3 officers. Thankfully, all of those officers made it home safely after actually being ambushed and shot.
Will Superintendent Brown and Mayor Lightfoot's comments cause a lawsuit that the Chicago taxpayer will be on the hook for? Tough to say. It's doubtful, as Keegan Casteel was charged with two felony counts but I'm not an enterprising young lawyer trying to make a name for myself.
Maybe Keegan Casteel will just want to get back to his private life in the middle of Iowa as an auto mechanic rather than the mass murderer he "likely" was according to Superintendent David Brown? Maybe Keegan Casteel will just want to get back to raising his two kids and get back to his life in the middle of Iowa with his girlfriend who was with him in the W Hotel room and who he proposed to upon posting bond rather than the "something more nefarious" Mayor Lightfoot believes him to be despite zero evidence presented he was going to be and that he, "luckily" for all of us, was not? Maybe Keegan Casteel will just want to get far, far away from getting caught up in the middle of the politics of the City of Chicago and never want to book a nice hotel room and come watch the fireworks at Navy Pier with his future wife on Independence Day ever again?
Sadly, due to the behavior of the leadership in this town, that's what a lot of people are saying these days. And I guess this is a tragedy, after all.
Notes & References
Enjoying these posts? Subscribe for more!
Subscribe Now