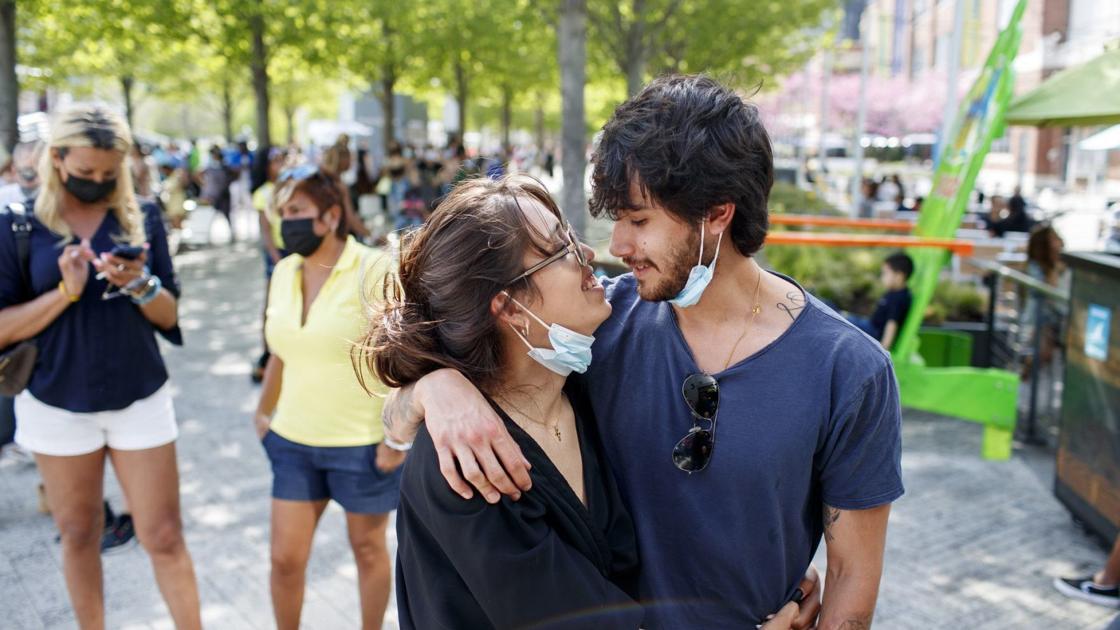 Christina De La Torre, 25, and Andre Dalgo, 26, both of Ecuador, on May 2, 2021, while waiting in line at a restaurant at newly reopened Navy Pier in Chicago.


ARMANDO L. SANCHEZ, CHICAGO TRIBUNE


The update overall aligns with Pritzker's Monday executive order that outlined the same exceptions to when fully vaccinated people still have to keep their mask on. But the city's additional recommendation for businesses illustrates how some store, restaurant and bar owners are struggling to balance keeping customers happy and safe as it remains unclear what each person's vaccination status is following the new rules from the Centers for Disease Control and Prevention.
On Monday, Mayor Lori Lightfoot said that she thinks "some clarification is needed" from the CDC, adding that she plans to continue wearing a mask indoors and in some outdoor situations in which she is uncertain whether folks around her have been vaccinated.
"It's great to say you don't need to wear masks if you're fully vaccinated, but that raises a whole set of questions that I think, perhaps, they didn't clearly anticipate," Lightfoot said. "So I think some clarification is needed and I expect that to be coming soon."
The CDC released the new, unexpected guidelines last Thursday, saying fully vaccinated people can safely resume most of their pre-pandemic activities without wearing a mask. A day later, Chicago instated new rules for restaurants and bars that expanded vaccine exemptions for capacity limits and included additional perks for late-night venues, which would escape the 1 a.m. curfew if they only allowed vaccinated people inside. Businesses must check their patrons' vaccination status to qualify.