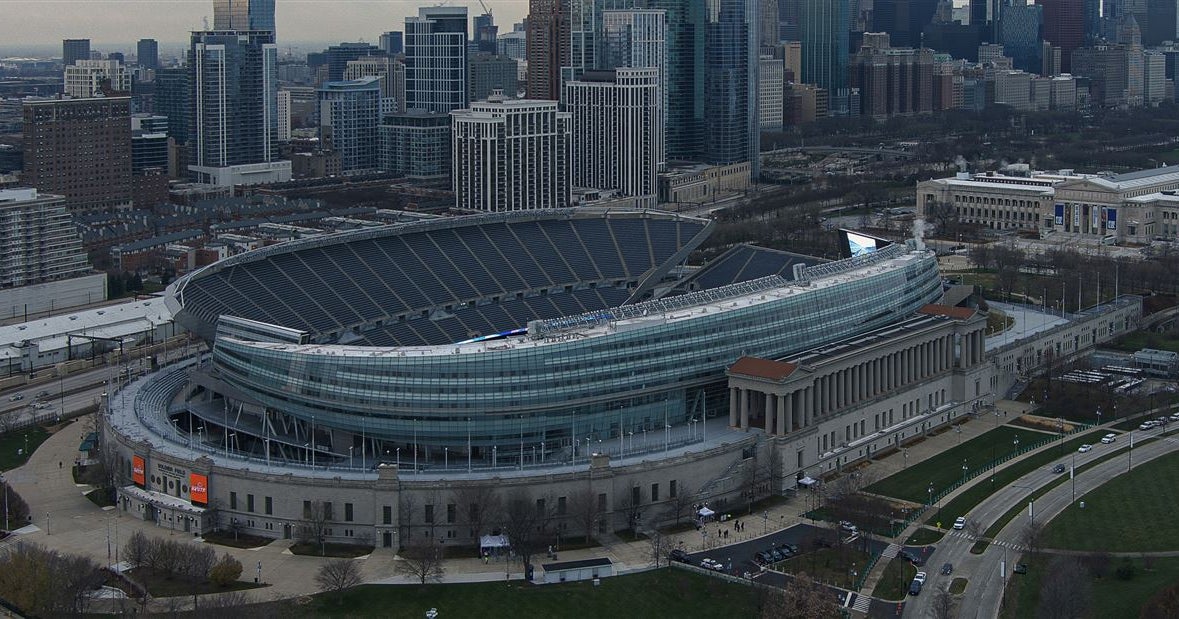 The Chicago Bears could possibly leave Soldier Field and make a move to a new stadium in Arlington Heights, Ill., according to a story from CBS Sports. In the story, Arlington Heights Mayor Tom Hayes addressed the possible move — which a team executive did not deny, according to CBS — in an interview with Fox 32.
"Certainly, the Arlington Park site is available and we would consider the Chicago Bears a great fit for that particular site," Hayes said, via Fox 32 in Chicago, according to CBS Sports. "I think the Bears are seriously considering it because it's such a unique piece of property. It has so much going for it in terms of its location in the northwest suburbs where a lot of their audience is."
The Bears have been playing at Soldier Field since 1971. The move to Arlington Heights, if it happens, would have Chicago roughly 30 miles outside of the city of Chicago. But if the team chooses to make that move, it would have some hoops to jump through.
Chicago Mayor Lori Lightfoot was asked about a possible move by the team. She pointed out that the Bears have a lease with Soldier Field until 2033, which could keep them in the stadium.
"I've seen a couple of reports [of a possible move]," Lightfoot said, according to CBS Sports. "But a couple of data points that I think you should be aware of are the Bears have a lease with Soldier Field until 2033 and the NFL doesn't let any teams break their leases."
But Hayes doesn't think the lease will be an issue.
"I know there's contracts involved and lease agreements," Hayes said, according to CBS Sports. "But a good attorney will tell you, you can always get out of those. There might be a significant price involved, but I would think if they wanted to make it happen, they could make it happen."
If the Bears do indeed leave Soldier Field, it'd be one of many changes that are coming to the team. One of the most recent changes that is in the works was at quarterback, as the Bears drafted Ohio State star Justin Fields as their future signal-caller.
Get the fastest scores, stats, news, LIVE videos, and more. CLICK HERE to download the CBS Sports Mobile App and get the latest on your team today.
The Bears are hoping Fields is the player that can turn things around. It looked like Chicago had it figured out last year, starting out at 5-1 by mid-October but then hit a rough skid. The Bears lost six straight games after starting 5-1 and sat at 5-7 in early December. Chicago went 3-1 in the final four weeks of the season, though, sneaking into the playoffs. But the season came to an end with a 21-9 loss to the New Orleans Saints.