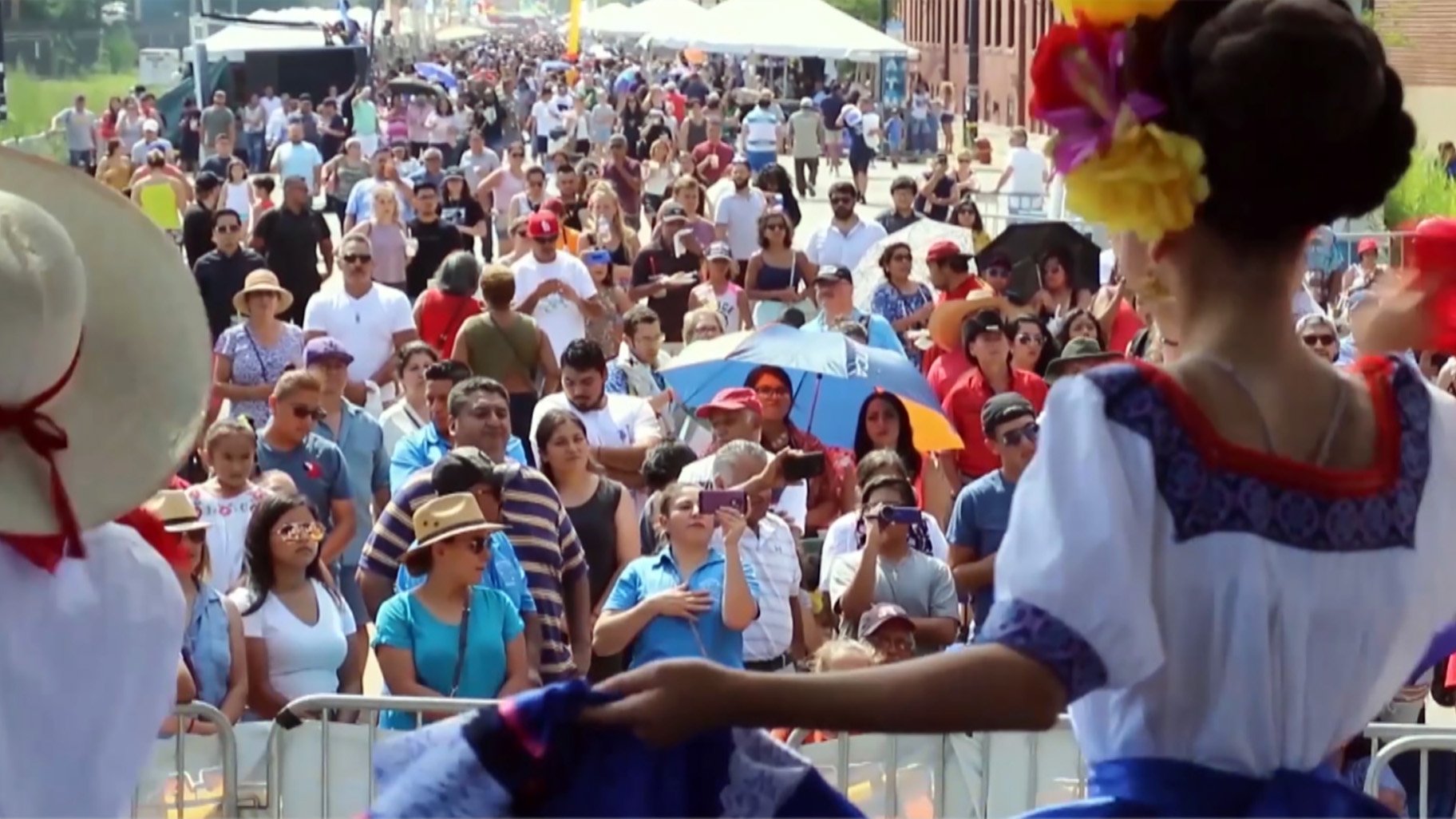 It's summer — and in Chicago, that means it's festival season. The city's street festival scene is legendary but was nonexistent last year due to pandemic-induced shutdowns. Now with Chicagoans hungrier than ever for summer food and festivities, two signature Latino festivals are set to stage their comebacks.
Alex Garcia, co-chair of Fiesta del Sol, says news of the festival's return for its 49th year has elicited an overwhelmingly positive response in its home community of Pilsen.
"Everyone's excited to come back to celebrating in-person, both locally and people from all over the region, Garcia said. "Especially knowing that we are setting COVID protocols. Everyone's excited and looking forward to the food, festivities, music and as well as all the resources that we provide."
Garcia says that while COVID-19 restrictions have been lifted by the city, the festival will still look a little different this year.
"We had set up a plan and submitted it to the city to … ensure the safety of the patrons, our volunteers and everyone involved … So we're encouraging all patrons to, if you're not vaccinated, please wear a mask," Garcia said. "We're also enforcing social distancing between all vendors, both food and street vendors. This is our first year now offering of food court so you can enjoy your enchiladas and tacos in our designated eating area and drinking area. We'll also have hand sanitation sites throughout the festival, as well as our first aid area."
There will also be COVID-19 vaccinations available on-site, as well as community job, citizenship and immigration, and school expos at Fiesta del Sol.
Fiesta del Sol takes place July 29 – August 1, 2021, on Cermak Road from Ahsland to Morgan St. starting Thursday, July 29, 5 p.m. – 10 p.m., Friday and Saturday, July 30 and 31, 11 a.m.- 11 p.m., and Sunday, August 1, 11 a.m. – 10 p.m.
Though it is now in its 14th year, Chicago Latin Jazz Festival artistic director Carlos Flores calls the fest "one of Chicago's best kept secret events" that has a feeling of a Ravinia concert.
"We get audiences from all over the city and even from Indiana and Wisconsin. We started the festival almost 14 years ago as a one-day local musician festival, and it's taken on a life of its own. So now we're up to two days on Friday and Saturday," Flores said. "We've featured artists who lived in Mexico, artists from Canada, Cuba, Puerto Rico. The audience has gone out to Humboldt Park Boathouse and bring their blankets and really enjoy some great music that they don't get to see or hear all the time."
This year's event will feature two local artists – Brazilian percussionist Luiz Ewerling and his band AMADA, and violinist James Sanders and his band Conjunto, who will perform a timely work.
"[Sanders] is going to be presenting the work, which is called 'Evidence' which is part of what he has experienced in the last 12, 14 months as part of being in the lockdown," Flores said.
Chicago Latin Jazz Festival takes place Friday, July 23, 2021, from 6:00 p.m. to 8:00 p.m. It's also moved from its historical home of the Humboldt Park boathouse – this year, it will be in the Humboldt Park fieldhouse at 1440 N. Humboldt Boulevard.
The event will follow Chicago Park District protocols, which encourages mask wearing, distancing, and hand hygiene.