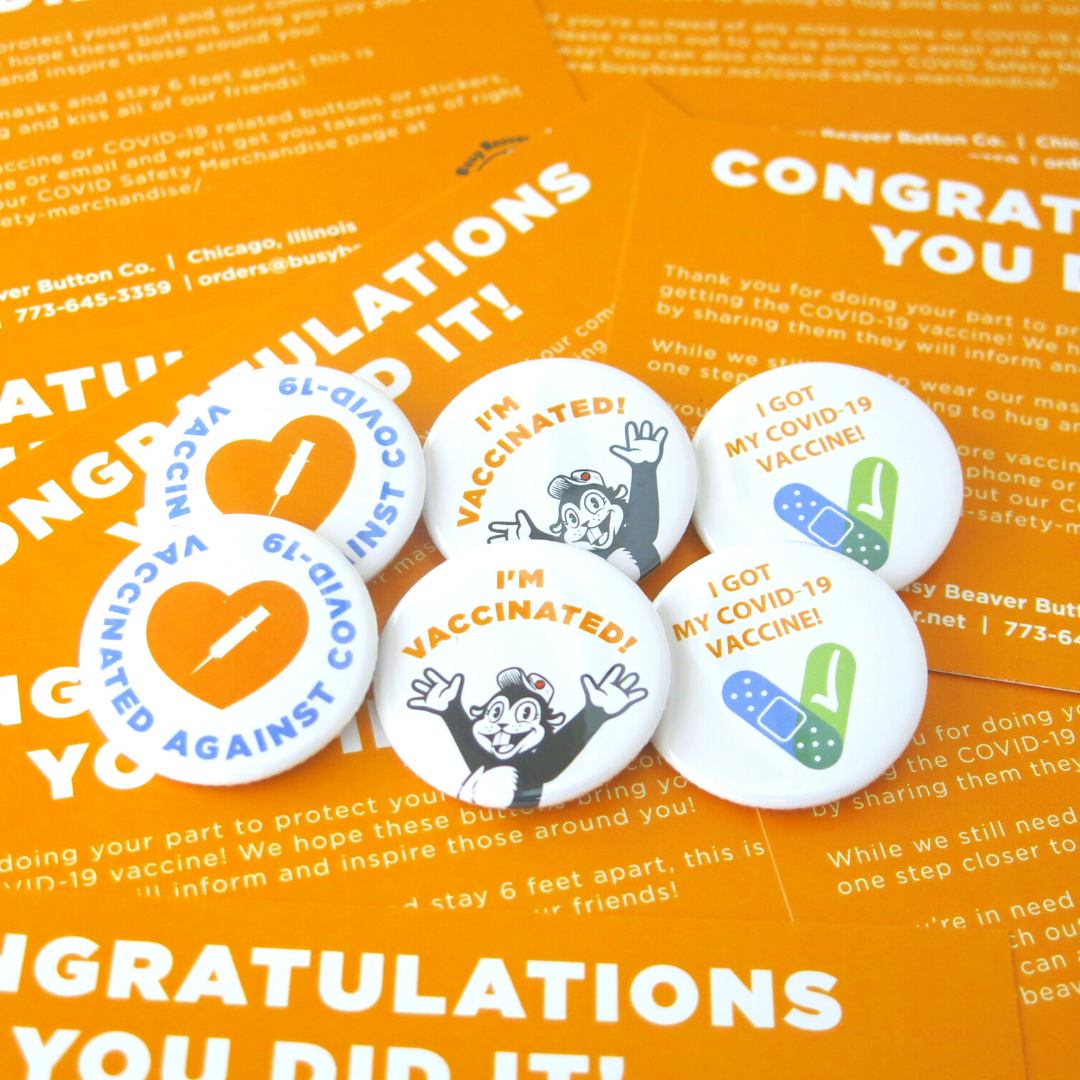 Looking for something a bit more long-lasting than a city-issued sticker to celebrate your Covid-19 vaccination? The button-crafting folks at Logan Square's Busy Beaver Button Co. have a solution in the form of a new "I Got Vaccinated" button pack, which lets newly-vaccinated folks flaunt their jabs to friends, family and passersby.
Christen Carter, who launched Busy Beaver in 1995 as a punk and DIY button business, says her team was inspired to create the buttons as more and more people at work got vaccinated, and as they noticed friends starting to inquire about each other's vaccination status. 
"I feel like everyone is asking, 'Have you been vaccinated yet?'" Carter says. "And if we're not asking, we're probably wondering."
By pinning an "I Got Vaccinated" button to coat jackets and tote bags, she figured, vaccinated people could easily (and semi-permanently) both signal and celebrate their doses. The team devised their six-pack of 1.5-inch buttons with three separate designs, with the goal of allowing friends and family to share the buttons amongst themselves. 
Photograph: Courtesy Busy Beaver Button Co
Though they might seem like a simple fashion statement, buttons, stickers and other merch are considered important tools for raising awareness about the vaccine. When the U.S. vaccine rollout started late last year, The Centers for Disease Control and Prevention issued design templates for stickers and buttons as part of its vaccination communication toolkit, one of which—a V-shaped combo of a bandaid and check mark—you'll see in the Busy Beaver pack. 
"Across the years [the V-shape] has stood for victory, peace and now vaccine," Carter says. 
In fact, there's a historical precedent for wearing buttons to encourage vaccination efforts, Carter says. Within the company's Busy Beaver Button Museum, which maintains a collection of more than 30,000 buttons dating back to 1896, you'll find pins celebrating vaccinations for like polio and influenza—small, everyday artifacts that helped mark the end of past pandemics. Aside from being a present-day conversation starter, your pack of buttons could one day function as an heirloom from the pandemic era. 
"This is just such a big moment that I think that these buttons will tell a little bit of the story of how people were feeling at the time," Carter says.
You can buy the buttons for $15 on Busy Beaver's website. Need anymore convincing to pick up a pack? Fifty percent of the proceeds will be donated to local nonprofit My Block, My Hood, My City.   
Have a few minutes to share how much you love Chicago? Take the
 

Time Out Index survey

 

here!