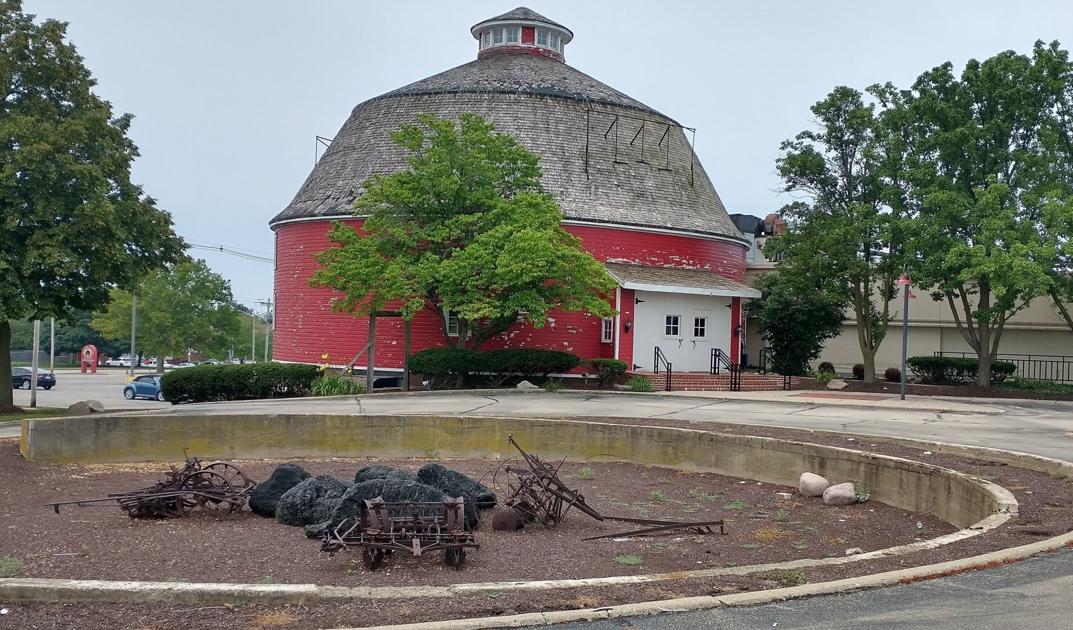 Submit questions by clicking here
This week's mailbag is jammed like a cannabis dispensary before Lollapalooza. There are questions about Champaign's Round Barn, the end of the Champaign Putt-Putt and The Hub, eateries in the Illini Union and the rundown condition of a mausoleum containing the remains of a Champaign pioneer.
And wait — in honor of onetime Illini and inventor Ron Popeil who died this week — there's more: an update on the Yards/Illinois Terminal project, truck traffic on Illinois 47, more on the Champaign Motor Speedway and rabbits around town, and an update on the University Avenue renovations.
And the mailbag is taking another vacation so there won't be an edition next week. We'll be back on Friday, Aug. 13.

Tom Kacich photos/The News-Gazette

Round Barn's future
"I'm hoping you can find out what the future of the Champaign Round Barn is. It has been a big part of our community for a long time and I would hate to see it go but that's what I keep hearing."
George Shapland of Shapland Realty was one of the original developers of the Round Barn area, purchasing the namesake barn in 1964 along with his brother Robert and with Roy Stout. 
They moved the barn about 100 feet from its original location and developed it into a first-class restaurant that opened in 1969 and lasted more than 20 years near the corner of Mattis and Springfield avenues.
But times have changed.
"We're evaluating what to do with the area in the round bar and how it related to Champaign's plans are for making Springfield Avenue an arterial street back through Neil Street and whether that's going to be a major inlet from west Champaign or not," George Shapland said. "That whole thing includes what happens to Country Fair (Shopping Center). We're trying to evaluate the whole area and make plans for it."
Razing the old barn is a possibility, he said.
"Tearing down is an option," Shapland said, "because of the inefficiency of the building and its age. But it was a very successful operation for a number of years.
"Kirby (Avenue) is getting a lot more traffic and Windsor Road and now Curtis (Road) is getting a lot more traffic. Bradley too. So Springfield has kind of gotten left out of the traffic pattern coming from the west, which is not good for that area. But it's kind of a fact.
"But that area is a good area. It just needs to be redeveloped, I think."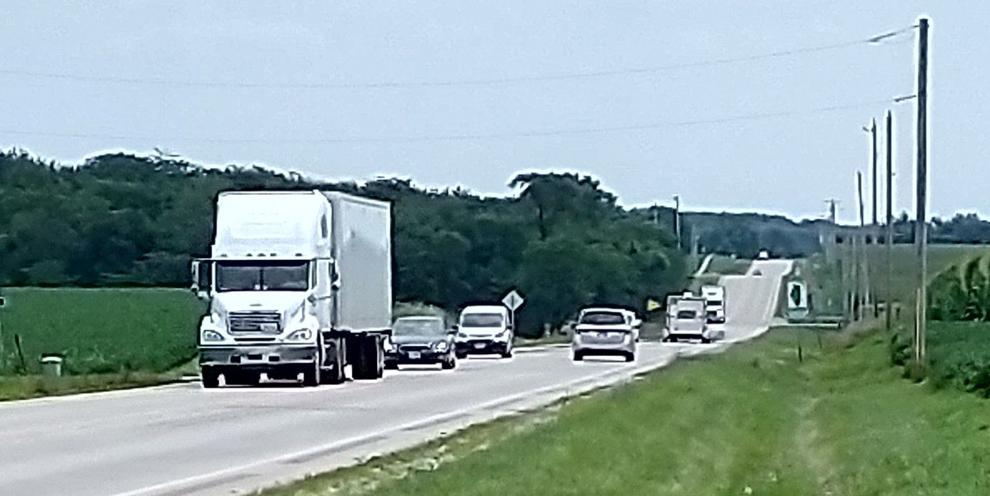 Tom Kacich/The News-Gazette

Truck traffic on Illinois 47
"Why is there so much truck traffic on Illinois 47 between Mahomet and Fisher?"
"This section, and the rest of IL 47, does have a seemingly high percentage of commercial vehicle traffic," said Gary Sims, traffic operations engineer and interim maintenance field engineer for the Illinois Department of Transportation. "There are many possible explanations and the true reason is likely a mixture of them all.
"Illinois Route 47, as it lies geographically, provides for a straight, rural route from Interstate 74 to the suburbs of Chicago with few towns between I-74 and I-80. Many trucks are likely using it to avoid tolls and heavy interstate traffic.
"Locally, recent issues may have also affected the volumes. The south beam of the eastbound I-74 structure over IL 47 at Mahomet was struck about eight months ago. Until repairs were completed this summer, loads were restricted across that bridge, forcing many trucks to exit onto IL 47.
'Oversized loads would then use IL 47 north to U.S. 136 east as a detour.
"There is also a lot of construction in the Champaign-Urbana area and elsewhere that some trucks may be consciously avoiding by detouring via IL 47."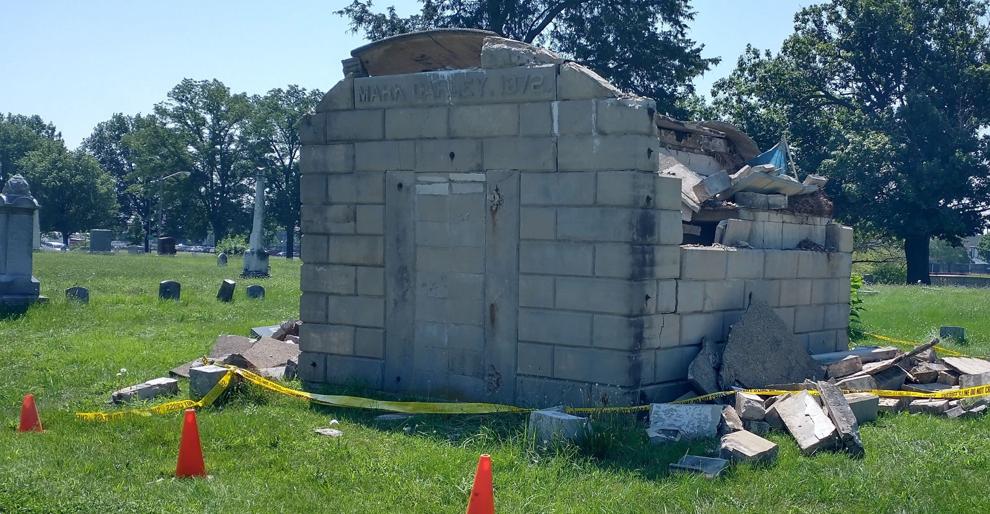 Tom Kacich/The News-Gazette

Champaign pioneer's grave
"An old above-ground tomb with the name 'Carley' on it appears to have collapsed at Mount Hope Cemetery in Champaign. What happens in a case like that?"
The mausoleum, which dates to 1872, partially collapsed last weekend, said an employee at Mount Hope.
Buried within that mausoleum is a true Champaign pioneer, Mark Carley, along with his wife Abigail.
Carley, according to J.O. Cunningham's definitive Champaign County history book, was born in New Hampshire in 1799 and lived there and in Vermont, New Orleans, Ohio, California and the Caribbean before coming to Champaign County in 1853.
"(A)nd the following year be became, in a sense, the father of the City of Champaign, inasmuch as he erected the first dwelling house on the site of the present city," Cunningham wrote. "He built also the first grain warehouse in the city and brought in the first steam engine to operate his elevator and corn-sheller."
"Other buildings which are still standing as monuments to his early enterprise," Cunningham wrote in 1905, "are the agricultural warehouse located on the Illinois Central Railroad at the Main Street crossing, the brick livery stable on Market Street, and the handsome homestead of his later years located on West Church Street."
Elsewhere in his book Cunningham writes that Carley brought the first piano to Champaign County and was one of three men to serve on a committee whose job was to bring an "agricultural college," later to become the University of Illinois, to town.
Carley died in 1888 but his wife passed away in 1871. Hence the "1872" date on the mausoleum at Mount Hope.
It's not that unusual for an old family mausoleum to fall into disrepair, said Tom Battista, president of Midwest Group Illinois, a suburban Chicago business that owns Mount Hope and a few other local cemeteries.
"It does happen occasionally and it's usually on a very old structure," said Battista. "When a family builds a family mausoleum or a family crypt it's the family's responsibility to maintain it, not the cemetery's. So what we do in the unfortunate event that something like this happens we start to do a search for next of kin and try to come up for a plan. We cordon it off and pay attention to the safety."
He said there was a single phone number in the cemetery records for a Carley family number and it is disconnected.
"So our staff is going to continue to search for family members. In the meantime our engineering people are assessing the situation and trying to figure out what the best way is to either reconstruct it or modify it so that it's safe and covered and sealed. That will take a little bit of time.
"It's really personal property. It doesn't belong to the cemetery. We don't like to act unilaterally unless we've tried and tried and tried and we can't find anyone."
If no family members are found the cemetery will have to make modifications on its own, he said.
"It's not really a matter of obligation. It's a matter of practicality. You don't want to leave anything open," he said. "We have to absorb the cost and try to figure out a way to modify and protect it."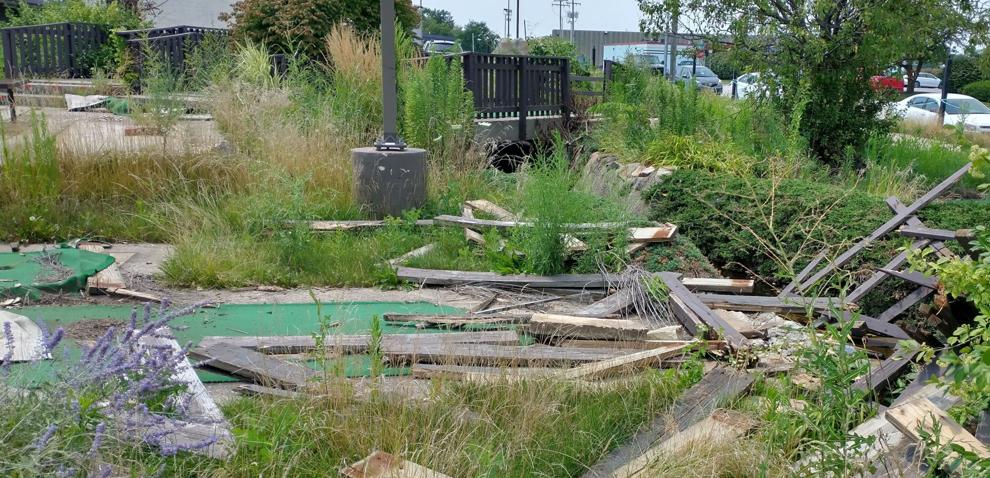 Tom Kacich/The News-Gazette

Champaign Putt-Putt
"Who bought the old Putt-Putt on Dennison Drive and what are their plans? My husband thinks that Enterprise bought it, as they can definitely use the extra parking. It was very sad to see the giraffe and elephant get loaded up and taken away. Putt Putt had been a staple in the area for at least 40-plus years."
and
"It's been awhile since we've taken the kids there but is the mini golf place on Prospect closed for good? Seemed like it was here for a long time. It would be a shame to lose it."
The Putt-Putt miniature golf course had been on Dennison Drive in northwest Champaign since 1960, said Steve Diveley of Danville, whose father opened it at that time.
After sitting unused last year because of COVID, Diveley said that "logistically and financially" he couldn't reopen it again.
"We hadn't operated it for almost two years. It was going to be expensive to try to get it up and running again, especially the parts required to operate the batting cages there," he said.
For now the Putt-Putt parking lot is being leased to the neighboring Enterprise car rental business. Beyond that he's not sure what will happen to the property.
"We're in the process of leveling the ground," he said. "If things don't work out with Enterprise we may end up doing something because we have the property that Enterprise sits on as well. We may take that whole big corner and make it something larger because we'd have Prospect Avenue frontage. Everything right now is up in the air."

Tom Kacich/The News-Gazette

Tough times for local restaurants
"The recent item about staffing shortages at the Courier and Silvercreek (restaurants) referenced the US Chamber of Commerce's call for the termination of supplemental unemployment benefits, but I didn't see any info about the wages and benefits the restaurants are offering to new hires."
"In answer to your question yes, we have raised wages significantly," said restaurateur Allen Strong. "I have offered hiring bonuses and have paid hiring bonuses and I've also gone back and given bonuses to staff that have stayed on and continue to work under the shortages and hardships.
"The wages we are paying now are unsustainable at the menu prices we have and so many prices in the future will have to go up. Unfortunately I don't think the general public realizes the effects that paying people $15 to $20 an hour for making hamburgers and sweeping floors has on the cost we have to charge to do this.
"Of course I have to be very careful because if I price myself out of the market trying to maintain these wages and benefits then I lose customers because the big corporations are able to keep their prices down because of their deep pockets and ability to ride out the storm. Where it's all going I don't know but I wish I did."
The Hub
"Is the Hub on campus a thing or is it closed? Drove by the other day and it looks to be the latter."
Sad to say it appears the Hub bar and grill is out of business.
It's sad to say because the Hub has a special place in the heart of all adult Kacichs. That's where most of us were on the night of Nov. 2, 2016, when the Cubs defeated the Cleveland Indians to finally win the World Series.
The Hub does not have an active liquor license "and to the best of our knowledge, has not been open for business in more than a year," said Matt Roeschley, deputy city manager in Champaign.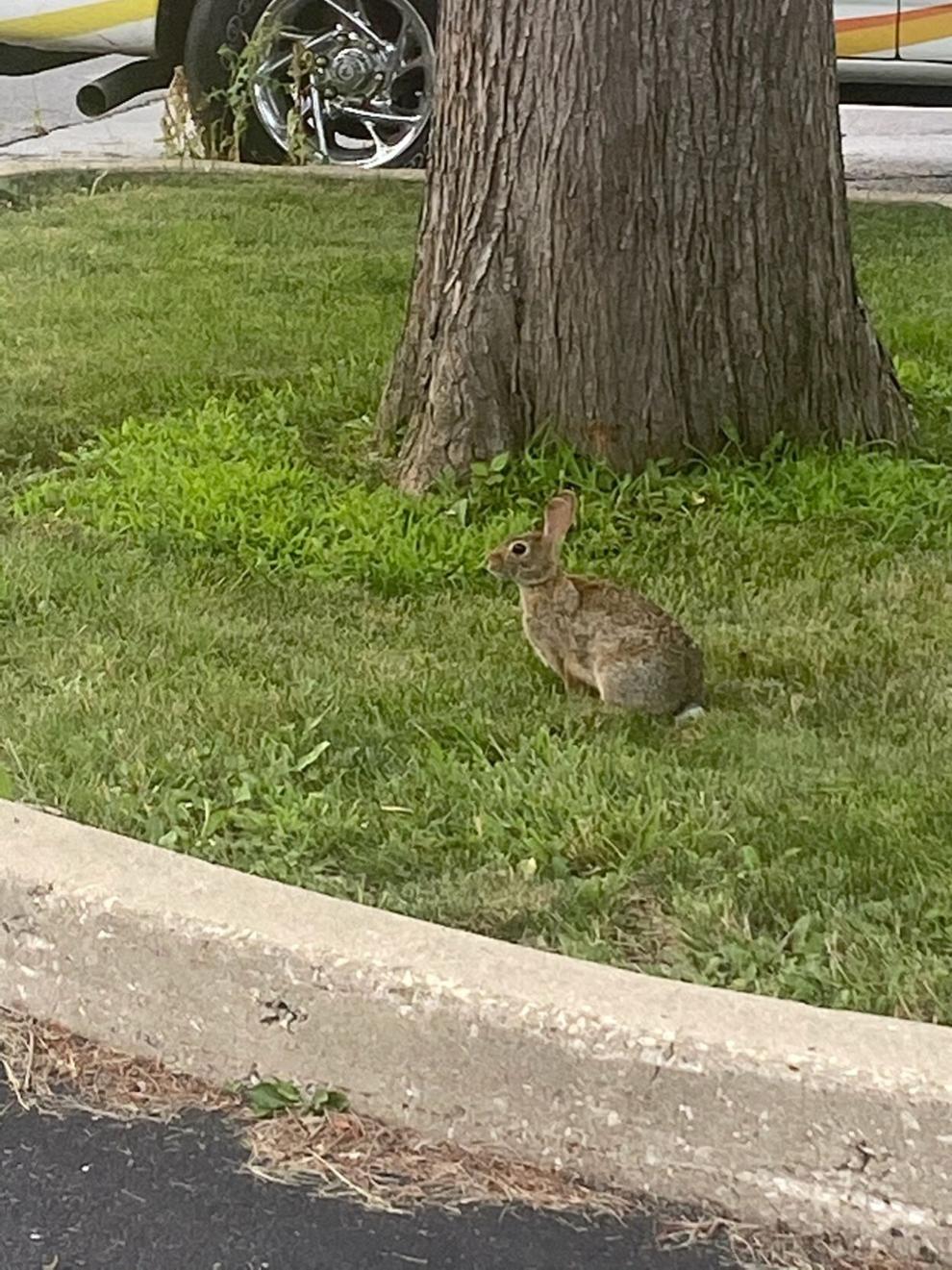 JIm Rossow/The News-Gazette
More on rabbits
"In the July 23rd edition of Tom's Mailbag, you explained that the annual rabbit population measurement is based on road-kill data. Wouldn't the fact that fewer people were traveling or even driving to work due to the pandemic be a significant factor for the 2020 statistics?"
We got some good information from Dr. Samantha J. Sander, a clinical assistant professor of zoological medicine at the University of Illinois and director of the UI's Wildlife Medical Clinic, that unfortunately arrived just after last week's mailbag went online.
"Despite your reader's observation, based on the most recent IDNR cottontail rabbit status report, the cottontail population does appear to be on the general decline in Illinois. That said, the cottontail population is plenty abundant throughout the state and will experience some population spikes from year to year despite the general downward trend," she wrote. "Our landscaped lawns and well-tended gardens provide plenty of food for cottontails, and this time of year is prime breeding season for raising up all those babies!"
As for keeping them out of gardens, Sander suggested "fencing generally is not very effective unless the gardener is willing to cover the entire plot or put up a tall fence. Rabbits have been documented jumping as high as 3-4 feet, so most garden fences are insufficient at keeping them out.
"As an alternative, some plants are less attractive to (or more resistant to) rabbits, including marigolds, onions, garlic, leeks, cucumber, tomatoes, snapdragons, lavender, lantana, and geraniums. Other deterrents include the use of predator musk or urine, crushed red pepper, ammonia, or vinegar.
"Plants that tend to be rabbit delicacies include carrots, lettuce, parsley, peas, spinach, chard, fruits/berries, sunflowers, and tulips."
More on Champaign Motor Speedway
Tim Hall, who worked at the old Champaign Motor Speedway in the 1970s, offered some of his memories of the short-lived auto race track.
"My dad was in on the group when they were laying it out and building it. And he was a motor sports announcer, and did motorcycle races, world outlaw sprint cars and tractor pulls and all kinds of other stuff. So before we got into monster trucks (Hall is president of Hall Brothers Racing in rural Champaign) we were at a race track every week somewhere and the old man was announcing."
One of his summer jobs was working at the speedway, he said. He drove a big, old water truck around the track between races, mowed the grounds, picked up trash and performed other needed tasks.
He said he believed the speedway opened in 1973 and closed in 1977.
"It wasn't open very long and it's sad because as race tracks go it was really something. The half-mile (track) when it was built was a little different because it was a half-mile on the pole whereas most of them are a half-mile halfway between the inside and the outside wall. And it was 102 feet wide and it had a good banking on the outside.
"The cool thing about it was because it was so wide the racers from other parts of the country who came here to race talked about how smooth it was. It was state of the art for its time."
Later they built a quarter-mile dirt track inside of the half-mile track, Hall said.
"They used it for a weekly sprint car program and motorcycle racing," he said. "They had motorcycle races every Thursday night and sprint car races on Friday night. That fit real well with the traveling racers. A lot of the motorcycle racers came and stayed at our house in Thomasboro. They would race Wednesday night at Santa Fe Speedway near Chicago which is gone now too. And then they'd race Thursday here and Friday night down at Tri-City Speedway down by St. Louis. That's still there (near Granite City, IL). And that was good for them because on Saturday and Sunday they could race somewhere else."
The track attracted large crowds, Hall said.
"They'd get a couple thousand people on a weekly basis. But when they did big races, they'd do a couple big races a year like when the world of outlaw sprint races came in or they had a dirt late-model series race, they would pack the place. There would be four of five thousand there."
"I can envision that thing like I was there yesterday," he said. "Quite frankly it was horribly mismanaged. They wrote racers bad checks a lot of the times. I remember racers coming to the back gate with last week's check to get cash."
The speedway had a succession of developers and owners, he said.
"Maybe the economic times weren't right but I don't know why it failed. Had it survived I have no doubt, with racing what it is today, it would have been a premier racing facility."
Hall said you can still see remnants of the track — which was located north of Champaign on the Dewey-Fisher Road — on Google Earth.
"You can see where the concrete curbing stops and the main entryway was," he said. "You can even see part of the track."
Urbana city employees
"I have heard that the city of Urbana did an employee compensation study but never released the results. I have also heard rumors about a number of employees leaving to go work for the city of Champaign. Is all of this true?"
"From time to time, employees leave the city of Urbana to accept positions at the city of Champaign, just as employees have left the city of Champaign for positions at the city of Urbana. To the best of my knowledge, no employee has left Urbana for a job at the city of Champaign in the last year," said Carol Mitten, Urbana's city administrator. "With respect to the compensation study, the city signed a contract for a classification and compensation study for non-union positions late in April of 2020. There are no results because much of the work on that study has been delayed due to the COVID-19 pandemic."
MTD spending
"Is it true the C-U Mass Transit District has set aside $25 million in grants for bus stops to pay for the parking lot for private property investment known as The Yards/hockey arena? Some us standing in driveways, mud, unlit, hi traffic corners want an explanation. Seems the goal is not to promote public transit with combo deals on tickets/bookings but create more traffic."
"Thanks for the question," said MTD Managing Director Karl Gnadt. "The Yards has the potential to be one of the most significant projects in the history of Champaign-Urbana. Although the pandemic has threatened the ability to pull the whole thing together, the partners are still diligently working on it. Our partners are: Hans Grotelueschen & Core Spaces, the University of Illinois Division of Intercollegiate Athletics and the city of Champaign. That's three of your public governmental agencies working with a consortium of local private developers to create a more vibrant, beneficial downtown project.
"So why will this be a significant project? Setting the dollar amount aside for a moment, The Yards will transform severely under-used and in some cases, dilapidated property into high-value, revenue producing parcels. It co-mingles public and private funds in a joint development that benefits the entire community. Governmental agencies need property tax revenue in order to provide the services that the community desires. But those agencies can keep the tax rates lower for their residents by making the property more valuable. One of the greatest things government can do for the community is to lower the tax burden for people, while still providing needed services. This project accomplishes that in two ways: 1) by pooling public and private resources to create a project that no one partner could achieve on their own; and 2) by drastically enhancing the tax base of the properties involved.
"Now to touch on the cost of the project. While we can't talk about actual dollar amounts because design work hasn't been completed yet, it would be safe to estimate that if the entire project gets completed it will be a couple of hundred million dollars. It is very likely that the project will be done in phases, because the pandemic has really altered the funding landscape. As the question noted, MTD has secured just over $17 million in a federal grant for the project. The funding source for the grant was the Federal Transit Administration's Bus & Bus Facility Discretionary Grant Program. This means that all of the money in that program will go to competitively selected transit oriented projects around the country. It can't be used for roads, streetlights, or sewers. MTD worked closely with Rep. (Rodney) Davis and Sens. Durbin an Duckworth on the grant. And we all agree that it is better to bring that money into our community rather than sending it to some other community for their transit project.
"Some final points. While a parking structure will be involved with the project, it is but one component. The Yards will expand MTD's downtown main terminal by doubling the loading platform space (enhancing safety and efficiency), upgrading and expanding the facility, and accommodating leasable revenue growth. It definitely is a transit project that benefits the services provided. In terms of 'creating more traffic,' for sure — if the sports arena does get completed, that will mean some more traffic. But what better way to reduce that impact than having it at the same site as the transit system's main transfer point? The best way to get in and out of downtown for a game and some nightlife is by using the bus."
Gnadt said he hopes to award a contract for architect and engineering work on the design of the MTD's portion of the project later this year.
"I saved the best news for last," he said. "Your concern about the condition of current bus stops throughout the community is valid. We're very excited that as a part of the budget that our board of trustees just passed, there is $300,000 set aside for stop improvements. When the district converted to designated stops, we planned to begin a stop enhancement program. We've waited a couple of years in order to collect data, but this year we will begin the improvement process. It will take time, but the process has begun. We have already ordered the first handful of new shelters to install. Part of successful governmental management is to include long range planning and short range planning; big projects and small projects; and making them all fit together. That's what we are trying to do here."
The bus shelters are a combination of replacement and new shelters. He said he hopes that crews can begin installing some of them before the fall.
University & Cunningham work
"When will they finish working on and around around University & Cunningham avenues in Urbana? Their work has been on for at least three years. I've seen many car accidents and pedestrians almost get to get around the construction."
IDOT's University Avenue rehabilitation project is scheduled to be completed by Nov. 1 but the University & Cunningham intersection may be done before that, said Kensil Garnett, Region 3 engineer for IDOT.
"The HMA (hot-mix asphalt paving) should begin in mid-August and the project completed sooner than the November 1, 2021 completion date," he said.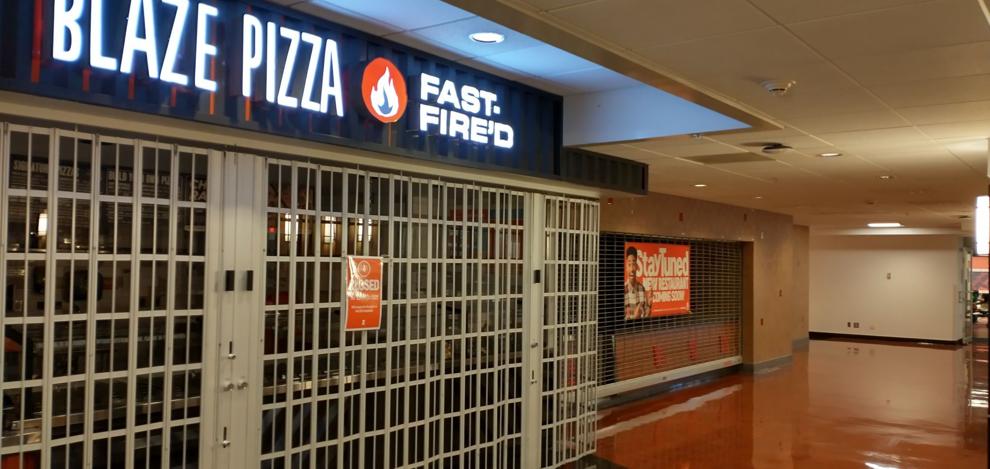 Tom Kacich/The News-Gazette

Illini Union eateries
"With the new school year less than a month away, I got to wondering what the plans were for the Illini Union, specifically the restaurants which either closed down early or left entirely. What's the plan there for Qdoba, or Wendy's, etc?"
"Most of our vendors are planning to reopen between Aug. 2 and 16," said Jim Trail, operations manager for the Illini Union Board. "As with many businesses, there are supply chain and staffing issues that they are working through which accounts for me not being able to give a specific date. These dates include most of our satellite locations at the airport, Vet Med and other locations around campus.
"For the Union specifically, Qdoba, Blaze Pizza and Einstein's Bagels will be open in this timeframe. Our self-op Starbucks are open at the Main Building and the Bookstore.
"We did lose some of our franchises through the pandemic. In our food court, we lost Wendy's and Garbanzo's. We are in negotiations with a vendor for the Wendy's space and are soliciting offers for Garbanzo's. On our main floor, we have a contract with Tropical Smoothie to replace Jamba Juice and are targeting a fall re-open. For the Auntie Anne's space, we hope to finalize a contract with a vendor soon and again are targeting a fall reopen as well."
Sweet corn fest
"Any official word on the Urbana Sweet Corn Festival this year?"
It was announced in April that the Urbana Business Association, which organized the festival, was going out of business.
That meant the end of the sweet corn festival, at least for this year. "We'll be exploring options for the future," Urbana Mayor Diane Marlin said at the time.
Animal control
"I saw a job listing the other day for an Assistant Director for Champaign County Animal Control. Is the investigation into them concluded? What county board members are on the animal control committee, and what date will they meet to discuss this with public participation? I would like attend, but have not heard anything at all about this from the county board."
"I believe this reader may be referring to the internal review of Animal Control policies and procedures that occurred following an incident back in December of mistakenly euthanizing a dog, which has resulted in redundant department communication measures being put into place," said Champaign County Executive Darlene Kloeppel. "An unofficial task force that included some county board members also met 1-2 times to go over the county's Animal Control ordinance, which had recently incorporated new state statutes and updated local fees.
"An assistant director position currently is being advertised for animal control, which we hope to fill soon.
WCIA-TV anchor
"What happened to Jen Lask at WCIA? After she reported on officer shooting and read a statement on behalf of the station, we haven't seen her on air. Is she working behind the scenes or has she moved on?"
and
"Jen Lask was a great weekend anchor and always did a great job reporting. I have tried contacting WCIA to find out where she is and was told by them that 'she is still employed by the station.' The weekend opening on Saturday evening gave her name stating she was still on."
Lask is still employed at WCIA-TV, said interim news director Andy Miller. He said he could not say whether she is working as a producer or in some other behind the scenes role.
"Hopefully she returns to the air," he said.